Welcome to the Unitarian Universalist Church, Tippecanoe County
Sunday Forum 9 am; Sunday Service and Religious Exploration Classes 10:30 am.
Nursery and childcare available.
A Month of Sundays
SEPTEMBER 28 "The Importance of Having a UU Church in the Lafayette Area" Worship Leader:
Dianna Poindexter Sound: Jason Dufair Fellowship: Kat Braz Pulpit Preparation: Robin Poindexter.  A few of the 25 year+ members who were honored earlier this month will share their thoughts.
OCTOBER 5 "Re-Membering" Worship Leader: Rev. Daniel Charles Davis, Worship Associate: Jan Thiel Sound: Noemi Ybarra, Fellowship: Alice Pawley and Stephen Hoffmann.  Pulpit Preparation: Lola Straub. Sharing of Joys & Concerns.  In September we remembered our past. Now is the time to rejoin our efforts. A pledge to support the church next year is essentially renewing your membership. This congregation is a partnership of people who share their time and resources to build an inclusive supportive religious community. Pledge cards will be available at Stewardship events throughout the month beginning after service October 12.
OCTOBER 12 "Stewardship" Worship Leaders: tba Worship Associate: Kat Braz, Sound: Mary Finley, Fellowship: TheProkopys, Pulpit Preparation: Lola Straub.
OCTOBER 19 "Diwali" Worship Leader: Dianna Poindexter Worship Associate: Sound: Gary Fowler Fellowship: Susanne McConville Pulpit Preparation: Robin Poindexter. The 3rd source that our living tradition draws from is "wisdom from the world's religions which inspires us in our ethical and spiritual life." This Sunday we will celebrate the meaningful and colorful Hindu holiday of Diwali.
OCTOBER 26 "The Beauty of Autumn" Worship Leader: Rev. Daniel Charles Davis, Worship Associate: Bill Welge, Sound: Dan Lybrook, Fellowship: The Burniskes, Pulpit Preparation:
Nina Kirkpatrick. The first source of the Unitarian Universalist living tradition, is "direct experience of that transcending mystery and wonder, affirmed in all cultures, which moves us to renewal of the spirit and openness to the forces which create and uphold life." Fall colors make it easy for me to realize how wonderful it is to be alive.
 Sunday Morning Forum
Sunday Morning Forum meets at 9:00 am in 101/103. Everyone is welcome! Childcare is provided. Co-chairs: Jim Anderson, Tom McConville, Bill Welge
SEPTEMBER 28:  Jim Anderson, Irene Stephens, Ruth Ann Ferris: The American Disabilities Act
OCTOBER 5: Rev. Charlie Davis: Moral Mondays and a Living Wage
OCTOBER 12: tba
OCTOBER 19: Tom Hertel: The Economics of Climate Change
OCTOBER 26: Sherri Lynn Dugger: "Farm Indiana"
Why we give to UUC: Josh and Linda Prokopy
"We give to the UU Church for so many reasons: (1) we believe in the 7 principles and want to be a part of a strong and vibrant community that attracts others, (2) we want our children to learn about the world's religions and learn to be tolerant and thoughtful, and (3) we love the social interactions with others at the church both on Sunday mornings but also through the special interest groups like the feminist book club, the women's night out, men's night out, families with kids group, etc. and through special events like the service auction and the retreat."
~ Josh and Linda Prokopy
Why do you give?
Security for our children
In light of attacks on other churches in recent years, we have set in place a policy of locking the entrance door to the office wing (where the keypad is) on Sunday mornings when the worship service starts. This is to prevent anyone with ill intent from entering through that door while most of the adults in the congregation are in the Sanctuary. The door is programmed to automatically unlock itself every Sunday morning before Forum. It will then lock itself at 10:30, when the worship service starts. This is specifically to protect our children when they go to their RE classes. UNDER NO CIRCUMSTANCES is anyone to leave that door unlocked at any time on any Sunday morning. Let the keypad program unlock and lock as it has been programmed. Please help us to maintain this security measure for our children. Thank you.
-- Safe Congregation Committee: Robin Poindexter, Noemi Ybarra, Bill Cannon
UU membership classes for Fall 2014/Winter 2015 - now on 2nd Sundays
UU Membership Classes presented by Rev. Charlie Davis and the Membership Committee, meet each second Sunday on a rotating basis after service and "Talk & Tour." Sessions will be held in Rm. 101/103; please select your meal from the potluck and bring your food to the class. Child care will be available if requested one week in advance. If you plan to attend, RSVP to Sallie Cooke, Membership Chair, (sallie@frontier.com) one week prior to class, so we have an accurate count for child care.
EXPLORING MEMBERSHIP: PARTICIPATING AT UUC, WEST LAFAYETTE 12 October. Learn more about the history of our UU church and what it means to be a member. This course is intended for visitors who are interested in learning more about membership.
DISCOVERING YOUR SPIRITUAL PATH 9 November . What gifts have you kept from your religious heritage? What have you discarded? How do you wish to improve yourself and the world? Come explore and share your stories with others. By speaking our truth and listening to others, we can deepen the meaning of community. Intended for everyone.
UU HISTORY 14 December. This class will cover topics such as: How did this denomination get to where it is today and how did Unitarian Christianity and Universalist Christianity evolve into the free religion we have today? By reviewing some of the controversies of the past we see how they shape our present. Intended for everyone new and old to UU congregations.
Social Justice Committee Updates
There is much to be done in the social justice arena. If you are interested in becoming involved in our activities, please join us at our next meeting Thursday, November 13 at 7:00 pm in Room 104.l If you have questions, concerns, or ideas, contact co-chairs Joan Marshall, jmarshal900@yahoo.com, &Tom McConville, tmcconville1200@comcast.net.
CHANGE FOR CHANGE: The theme for Change for Change 2014 is "Helping Our Community." All loose coins in the 2014 Sunday Offering will go to organizations striving to address social justice issues in this area. Our September/October C4C recipient is Food Finders Food Bank, a 501(c)3 not-for-profit organization. Food Finders is raising funds to build a Food Resource and Education Center which will include a pantry that is open evenings and weekends. In addition to the pantry a curriculum including classes on meal planning, cooking on a budget, and wise shopping will be offered. Healthy eating will be emphasized. In addition to the Food Resource and Education Center, Food Finders must expand their warehouse space so that they are able accept and process more food.
LAFAYETTE AREA PEACE COALITION (LAPC): The next meeting of the LAPC (co-sponsored by UU Social Justice) will take place on Sunday, 5 October, 2014 at 7:30 pm at the Unitarian Universalist Church, 333 Meridian Street in West Lafayette Room 101/103.
From the Stewardship Committee
Hello All,
Our annual Stewardship Drive kicks off October 5 and continues until November 2. The theme for this year is 65 Year Anniversary: Re-membering. Our goal is for 100% of members and friends to "re- member," that is, renew their commitment to our church. Pledge cards will be available after Forum and before and after service starting October 12, as well as at the Lead Donor Dinner and the Rising Member Cocktail Event (see dates below). Before you receive your card, please take time to reflect on your commitment to the church and the role the church plays in your life. As most of you know, 2015 brings unique financial challenges to our congregation. Our roof is in need of major repair. We are in the process of hiring a new DRE as well as a new choir director. Another cold winter means increased utility and grounds maintenance costs. With these challenges come opportunities for growth and improvement. This all hinges on our personal and cumulative vows to our church. We cannot afford to pledge as we have in the past and expect that someone else will make up the difference. We are the someone else. We are the difference.
Stewardship Event Dates
October 5 10:30 Stewardship Kick-off Service
October 8 6-8pm Lead Donor Dinner
October 10 5:30-7 Rising Member Cocktail Hour (for members who pledged for the first time in 2014 and/or increased their pledge in 2014)
October 12 10:30 Stewardship Sermon
November 2 Stewardship Wrap-Up
Pledge cards available after forum and before and after service
October 12, 19, 26; raffle for those who turn in their cards on those dates
All the best,
Sherry Tripodi,
Stewardship Committee Chair
STUDY ON BEING "MARGINALIZED" BY FAMILY
Adults ages 25-35 who have at least one sibling and who feel like the "black sheep" of their family are needed for a study on family relationships.
In some societies, marginalized family members are called "black sheep" because they stand out from the rest of the group. Being marginalized refers to feeling different, not included, or not approved of by family. Everyone feels marginalized by family at one time or another but participants must have been made to feel this way by multiple family members from their family of origin (the family they grew up with) and have felt this way for at least one year at any point during the past ten years.
Participants will complete a 30-40 minute survey. Participants who meet the eligibility criteria will be compensated for their time with a $5 Starbucks gift card. Participation is voluntary and confidential.
For more information contact Elizabeth Dorrance Hall in the Brian Lamb School of Communication at edorranc@purdue.edu or 269-370-7454 or follow this link to participate: http://tinyurl.com/PurdueFamily
LAFAYETTE URBAN MINISTRY HUNGER HIKE 2014
This year's Hunger Hike raised more money to date than all past Hunger Hike events. Hunger Hike 2014 this past weekend was filled with excitement, energy and good will. The weather was perfect for both the HH5K Run on Saturday and the Hunger Hike Kick-off event and 3K Walk on Sunday. Hundreds of caring individuals walked, ran, hiked, and donated funds to the Fight Against Hunger. Thus far approximately $95,000 has been pledged and donated to Hunger Hike — which exceeds ALL past years for the amount of money raised. The crowd gathered together in Riehle Plaza with one goal in mind – Fighting Hunger. The event this year was special from beginning to end.
Sept 28: "You Can't Put God In A  Box: Thoughtful Spirituality in a Rational Age" author visit by Kelly Beseke.
12:30 PM, ROOM 101/103
Please join us for a discussion of "You Can't Put God in a Box" with author Kelly Besecke, Sept. 28 at 12:30 pm in room 101/103. With the loss of religious certainty which prevailed in pre-modern times, some people embraced religious fundamentalism and others shunned religion altogether. This book focuses on those spiritual seekers who found a "middle way" which draws equally on religious traditions and traditions of reason. They prefer metaphor to literalism and spiritual experience to doctrinal belief. Bring your lunch! You don't have to have read the book to attend and enjoy her talk!
Oct 2: The 20 minute tune-up continues!
Please join us for this Taoist Immortal Internal Exercise 8 Week Class taught by Master Jason Argos. The next session begins Thursday, 2 October 2014, 6:15 p.m. to 6:45 p.m., through Thursday, 13 November, UUC Room 101/103. $55 for 8 classes, to be paid at first class. Exercise level set for seniors; all ages welcome. During the first 20 minutes Master Argos will guide you through 16 exercises from the book, "Xing Yi Nei Gong" by Tim Cartmell (book is recommended but not required). During the last 10 minutes of each session Jason will share a powerful form of a technique known as bone marrow washing which is performed while standing still; this is thought to deter arthritis. As you become familiar with the 16 movements Jason will share more Nei Gong from his decades of Xing Yi study. Xing Yi and bone marrow washing, brought to China by Bodhidharma, has been passed down from ancient times.
Oct 3-5 3rd Annual LGBTQIA Film Festival.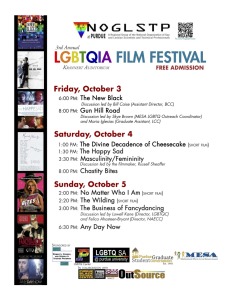 The National Organization of Gay and Lesbian Scientists and Technical Professionals at Purdue will be hosting its Third Annual LGBTQIA Film Festival the weekend of October 3rd through October 5th. The movies will be shown in Krannert Auditorium on Purdue's campus. This event is completely free and open to the public, and will include facilitated discussions after several of the films, including facilitators from all four of Purdue's cultural centers. A detailed schedule of all the films is available at the church, or on the Facebook event page.  Contact Tim Luttermoser with questions.
Oct 12: TALK AND TOUR ON SECOND SUNDAYS AFTER SERVICE
Please join us immediately following service each 2nd Sunday for "Talk and Tour," next on October 12. This 15-minute guided walk through the building is designed to familiarize newcomers with our congregation and facilities. Participants do not need to sign up in advance—simply gather at the Newcomers Table outside the Fellowship Hall at 11:45. Thanks!
Oct 13: Drumming workshops
DRUMMING SESSIONS in the West African style facilitated by Sundeep Rao and Robin Pickett of circAfrique! Beginning in September, Drumming will meet on each 2nd Monday at 7:30. The next regular A-REC Drumming Session: Monday, October 13, 7:30 pm in 101/103. Bring your drum, bells, shakers, and other percussive instruments. $10 donation is requested per session. RSVP & details: http://goo.gl/2gw2I or information email info@circafrique.com or call Suzan Windnagel, 765-714-6173 or via Facebook pages for UUC or CircAfrique!
Oct 14: Board meeting
Board Meetings take place each third Tuesday at 6:30 pm in Conference Room 101/103, next on Tuesday, 14 October 2014. Church members are welcome to attend and are encouraged to speak with members of the Board of Trustees regarding congregational questions and concerns.
Oct 26: FILM: RISE ABOVE THE MARK
Sunday, October 26, Unitarian Universalist Church, 333 Meridian St., West Lafayette, 4pm. A showing of the film Rise Above the Mark, a documentary narrated by Peter Coyote that brings to light the heartbreaking realities of public education. Enter building thru double glass doors off Smiley St. See flyer in pdf of newsletter.
Nov 23: INTERFAITH SERVICE & ANNUAL THANKSGIVING MEAL 4-5PM  ST. THOMAS AQUINAS CATHOLIC CENTER AT PURDUE SANCTUARY
We are seeking diversity in thought, word, and music for participation. If your faith community is interested, please contact: Rev. Charlie Davis (uurevcharlie@aol.com). Following the service, St. Tom's Annual Thanksgiving meal takes place. All are invited to attend. To plan appropriately, please RSVP to this invitation or stay tuned to: www.facebook.com/interreligiousnetwork for the event invitation.  There will be a special time for collection of non-perishable items and financial donations for Food Finders Food Bank. Thank you!!
West Lafayette Zen Group
We meet each Thursday in the Meditation Room at 5:30 p.m. for Zazen sitting, chanting and reading, also Saturday mornings at 8:00 a.m.
Football parking: available money maker!
The Purdue football season has already started. As usual we are parking cars on our property as a way of making money for the church. As we have done for a number of years, groups and committees within the church can volunteer to do the work on a given football Saturday and get part of the proceeds – typically half of that week's take (the other half goes to the church's general treasury). We anticipate large crowds for some games and smaller crowds for others. So the income earned varies, but so does the work load. Two-three people can handle the job on the days when we anticipate a small crowd, while 4-6 people are necessary for some of the larger crowds. Typically someone needs to show up around 9 am to put out signs and the traffic cones. Parking starts in earnest around 10 am and continues through noon (the usual start time for the games; if the game is moved to a later time slot then all start times need to be similarly adjusted). You don't need to be present after the start of the game – drivers are on their own after the game. Typically we park about 10+ cars on a slow day and up to 60 for the biggest games. Parking is $10.
If you have a group that would like to make some extra money for church activities this fall, contact either Amanda Estes (amandamestes@gmail.com) or Barny Dunning (jdunning@purdue.edu). In the past, game days were allotted on a strictly "first come, first served" basis. To be a bit fairer, we will collect offers to volunteer for specific games through Sept 24 and then assign groups to games as fairly as possible (flipping a coin?). Groups that want to do one of the bigger games need to show they have the "person-power" for the task.
Remaining games include: Oct 11 Michigan State (large crowd, possible later time), Nov 8 Wisconsin (large crowd), Nov 22 Northwestern (small crowd).
New email address for Karin Bergman, Office Administrator
As part of our communications overhaul, we have got a new email address for the church office administrator, Karin Bergman.  The new address is office@uuctc.org.  The old email will still work for now, but the new address allows Karin to check email from places other than her work computer.  Please update your address books!  (Last week for announcement.)
Adding events and announcements to this newsletter
To submit information for inclusion on the church's Facebook Page, Google + page, newsletter, blog, or to have an announcement made before service, please complete this form (this is an updated form, so it might look a little different if you had used the old Google form).   If you need space at the church or want to add your event to the My Church events listing, contact Karin first at office@uuctc.org .  Send feedback to Alice or Karin.  Thanks!