Welcome to the Unitarian Universalist Church, Tippecanoe County
Sunday Forum 9 am; Sunday Service and Religious Exploration Classes 10:30 am.
Nursery and childcare available.
Welcome to the newly formatted "Lighted Chalice Weekly Bulletin!" We now have a single page, double-sided issue to be included with each Sunday's Order of Service. There will also be a once per end-of-month "Lighted Chalice Newsletter," edit and layout completed by a committee of 4 or more individuals. We have 3 individuals who have stepped up to the plate to help (thank you!), and are seeking a 4th to be part of this integral team responsible for keeping our church apprised of ongoing activities and events. If you are interested in helping with the newsletter, please contact Rev. Charlie Davis, 765.743.8812 or 765.414-1815. For up-to-date information about this church, see our website, uuctc.org; Alice Pawley is our webmaster. Be sure to check the "calendar" portion of the "events" section on the web for a current schedule by date/month.
-- Karin Bergman, Office Administrator 
SUNDAY 5 OCTOBER
FORUM, 9 AM: Rev. Daniel Charles Davis presents Moral Mondays and a Living Wage. Rev. Charlie has participated in a movement that tried to unite marginalized people and encourage voting. After initial success and increased participation there was a backlash in North Carolina. The Supreme Court weakened the voting rights act and the moneyed minority gained political power and reversed many of the provisions that increased participation by the poor and working class. The progressives responded with Moral Mondays. These weekly protests at the statehouse developed as a way to create sustained pressure on political systems to make government work for all. As a result of the headline grabbing protests a coalition of justice-seekers is growing. People are hopeful enough to work for positive change. Many of the regressive changes that occurred suddenly in North Carolina in the past year have happened slowly and quietly in Indiana over the past 5 years. Some in Indiana have come to realize that we need a Moral Mondays movement here. Forum is chaired by Jim Anderson, Tom McConville and Bill Welge.
SERVICE, 10:30 AM: Rev. Daniel Charles Davis presents "Re- Membering." In September we remembered our past. Now is the time to rejoin our efforts. A pledge to support the church next year is essentially renewing your membership. This congregation is a partnership of people who share their time and resources to build an inclusive supportive religious community. Pledge cards will be available at Stewardship events throughout the month beginning October 12 after service.
Today we will also share Joys and Concerns.
Worship Associate: Janice Thiel. Sound: Noemi Ybarra. Pulpit Preparation: Gail Davis. Fellowship Team Leader: Alice Pawley and Stephen Hoffmann.
Sunday 12 October
FORUM, 9 AM Chris Campbell is an Indiana State Licensed Audiologist at Lafayette Otolaryngology Associates, Indiana Ear Nose and Throat Practice. The medical facility where Chris works, and topics including hearing loss, hearing aids, cochlear implants and balance disorders will be discussed.
SERVICE, 10:30 AM Please join us for Stewardship Sunday lay-led service: "Where Does All the Money Go?"As church members, we pledge to give of our time, talent, and treasure. Representatives from different church program areas will talk about why giving is important to them. Worship Associate: Kat Braz. Sound: Mary Finley. Pulpit Preparation: Lola Straub. Fellowship Team Leader: Joshua and Linda Prokopy.
Why I give to UUC: Kim Smith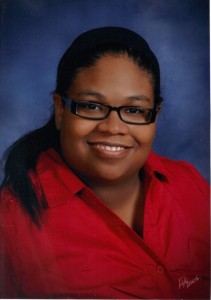 "This church has helped make Lafayette my home. It provides me with spiritual growth and the opportunity to meet great friends. I know that sharing my time and resources help support the programs and growth of this church."
~ Kim Smith
Why do you give?
CHILD AND YOUTH RELIGIOUS EXPLORATION: WELCOME TO OUR NEW DRE!
Hello! My name is Nicole Rice and I am thrilled to be your new Director of Religious Exploration. I am looking forward to meeting all of you and learning about the gifts and talents you bring to the UU community. I am originally from Memphis, TN and received my undergraduate degree in early childhood education from University of Memphis and my graduate degree in education from Union University. I have been teaching for the past twelve years and am looking forward to this new challenge. Here are some fun facts about me and the people and things I love:
I have been married for just over a year to a man of many talents, Adam Rice. He has played percussion with two local groups, CircAfrique and Zimdiana and sometimes teaches drumming workshops at the UU.
I taught at New Community School for seven years. That's where I met my husband, who is the P.E. teacher.
I have a younger brother, Max, who lives in Memphis and paints houses with my dad.
My mom is a special education teacher and loves creating yard art.
I also have a fish named Max (not to be confused with my brother) who loves reggae music.
I am inspired by art, music, nature, camping, yoga, meditation, hiking, reading, conversation, and learning new things. I try to incorporate these things into my daily life as much as possible.
I try to read at least one book per week and really enjoy a good mystery.
I have a collection of over 300 horror movies (most of them VHS).
My husband and I recently purchased our first home and love decorating it with a vintage flair and friend-made art.
I am thrilled to be a part of such an open and welcoming community. Please feel free to e-mail me with any questions, concerns, comments, and ideas that you may have (drenicolerice@yahoo.com) or just stop by my office.
-- Nicole Rice, Director of Religious Exploration.
NEWSLETTER COMMITTEE NEEDED
A number of years ago, the job of editing the newsletter was added to the duties of our Office Administrator, Karin Bergman. Since that time, the scope of the newsletter has expanded. This has made it difficult for Karin to complete other important tasks, and has added hours to her already packed work-week. Karin has gone "above and beyond," but the job of producing and editing the newsletter has become too much for just one person. It's now time to return to the practice of having volunteers produce our newsletter. Those interested in being on the newsletter team should contact Rev Charlie at uurevcharlie@aol.com. Charles Davis, Minister; Gail K Charlotte, Board President.
SECURITY FOR OUR CHILDREN
In light of attacks on other churches in recent years, we have set in place a policy of locking the entrance door to the office wing (where the keypad is) on Sunday mornings when the worship service starts. This is to prevent anyone with ill intent from entering through that door while most of the adults in the congregation are in the Sanctuary. The door is programmed to automatically unlock itself every Sunday morning before Forum. It will then lock itself at 10:30, when the worship service starts. This is specifically to protect our children when they go to their RE classes. UNDER NO CIRCUMSTANCES is anyone to leave that door unlocked at any time on any Sunday morning. Let the keypad program unlock and lock as it has been programmed. Please help us to maintain this security measure for our children.
Thank you.
-- Safe Congregation Committee: Robin Poindexter, Noemi Ybarra, Bill Cannon
All Church Halloween Party Save the Date!
The all church Halloween party will be Saturday October 25 from 5 – 8 pm. Start planning your costumes! All ages are encouraged to attend!
-- Linda Prokopy, Coordinator.
Other recent posts to the website