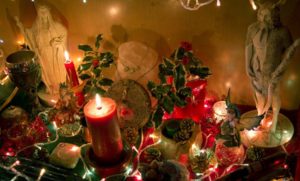 God's Guild and the Unitarian Universalist Church will host the Winter Solstice and Yule Ball on Friday December 16th, from 5 pm to midnight
at the church on 333 Meridian St., W Lafayette. We're planning to do something amazing - a full Yule Ball open to all ages! There will be singing, stories, and a meditative spiral labyrinth, where everyone can walk a spiral of Evergreen boughs to light their candle from the center and place it somewhere around the spiral. We will have an outdoor fire, for stories and fellowship. We may have some live music, and will definitely have recorded music with the sound system from the church. Alcohol will be served, but the event is open to all ages. We are asking a $5 donation per adult to help pay for the permit and maybe live music, but if you are willing to volunteer your time to be a bartender your $5 will be waived.
We will decorate and set up the night before, so if you're interested in assisting on Thursday the 15th, let us know!
No formal attire is required, but have fun with it! Make yourselves swishy, fabulous, or just wear something fun to dance in. Be comfy, or be beautiful, but come! Arrival time is flexible - come when you can, stay as long as you want. Potluck dishes to share are optional but would be great.