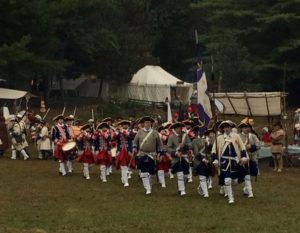 The sign up sheets are on the Membership bulletin board in the hallway outside the Narthex, please sign up! If you work one 4 hour shift you get a weekend pass (Feast Button) but we would appreciate more than one shift. This is a wonderful fundraiser and a chance to really get involved with the Feast. Come in your own period costume or borrow one of ours.
If you are interested in Coordinating the booth or being a cashier please see Jada Haughey or contact her at ladyjada@hotmail.com or 765-430-3214.
The 50th Annual Feast of the Hunters' Moon and the 300th Anniversary of the founding of Fort Ouiatenon will take place Saturday, September 30th and Sunday, October 1st, 2017. We will also need setup help on September 28th and 29th.
For more information about the Feast of the Hunters' Moon, visit their website.