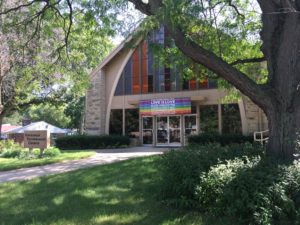 Please plan to attend the Interest Fair on Sunday, September 10 after service in Fellowship Hall to learn more about how you can enjoy the fellowship of others as you share your time and talent to nurture and support this congregation.
What is stewardship? Merriam – Webster offers the definition: the careful and responsible management of something entrusted to one's care. This congregation has been entrusted with UUCTC's legacy. Supporting the foundation laid by our predecessors includes financially supporting the church; it also includes sharing your time and talent to contribute to the vitality of this beloved community.
How many staff and volunteers do you speculate it takes to cover Sunday morning activities at church, five, ten, fifteen, twenty . . .?
Let's take a look:
• Forum (2)
• RE classes/nursery coverage; two staff and ten volunteers (12)
• Fellowship Team to cover the welcome table and coffee hour/potluck Sundays. There are about 20 people on each team. We all have busy lives so each leader has to hope that enough people on the team are available on the assigned Sunday. (~10)
• Worship, two staff (minister and pianist), worship associate, sound tech, two greeters (6)
• Collection counting (2)
That is about 30 people, just for Sunday morning!
There are numerous moving parts that compose UUCTC. Administering the church and all its moving parts is comprised of elected offices, committees, interest groups, fundraisers and activities that support and nourish this church and its congregants. Whatever gifts and talents you have, they are welcome here! As Program Council chair I can assure you we welcome new faces and new ideas.
Sherry Tripodi, currently chair of the nominating committee and the November Talent Show, also on the Sunday greeter team, has: served on the board, chaired the stewardship campaign, led a fellowship team and been involved in numerous other ways. She describes her UUCTC volunteer experience, "I started volunteering at the church right after we joined. This was the easiest way for me to get to know people. Serving on committees and organizing events has helped me to stay involved and committed to the church and to create relationships with other members."