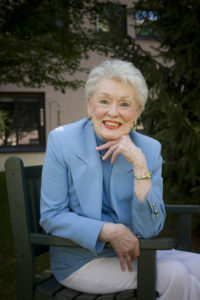 The Community Foundation of Greater Lafayette received an unrestricted legacy gift from a past board member, LaNelle Geddes. LaNelle was a nurse, scientist, researcher, and educator. She earned a bachelor's in nursing in 1957 and doctorate in biophysics in 1970, both from the University of Houston. Her career included 28 years at Purdue University, where she advocated for gender equity and moving nursing from a technical to professional status. Her pioneering initiatives included a four-year baccalaureate program and launching the Purdue Student Nurses Association, Minority Student Nursing Association, and Nursing Freshman Scholars.
When LaNelle died in 2016, she designated a generous legacy gift to The Community Foundation of Greater Lafayette, leaving an everlasting legacy to her home of 40 years. More about the CFGLAF.
LaNelle knew the importance of endowments in that they provide predictable and growing sources of income for our local organizations. Wouldn't it be great to plug in an unrestricted revenue line every year that is managed by someone else and grows almost every time you budget? That's what an endowment is designed to do; provide a stable, growing revenue stream that frees up the staff, board, and volunteers to focus on the agency's mission!
To honor LaNelle's generous gift, The Community Foundation board of directors has allocated $500,000 of LaNelle's gift to provide matching funds for participating agency endowments.
Overview
Match eligible: 50% match for UUCTC Endowments.
It is on a first-come first-serve basis. When the $500,000 of matching dollars are depleted, the campaign is over.
The match is available only on gifts from individuals or businesses payable to CFGL designated for each organization's endowment fund.
There is a cap of a $25,000 matching funds - which would be a $50,000 or more gift per household per fund. A household can make gifts to more than 1 endowment fund.
Cash, online gifts, and stock are accepted.
The CFGL match period will begin on November 28th of this year on Giving

Tuesday

.
Match period ends

August 1, 2018

unless all matching dollars have been depleted prior to this date.
You can help The Unitarian Universalist Church. Designate your gift to the UUCTC endowments: Kay Asher Religious Education Endowment, Ferris-Harvey Social Justice Endowment, UUCTC Building Fund Endowment or the general UUCTC Endowment. If you have questions, please contact Julia Colby at rivermomma27@gmail.com.
SaveSave