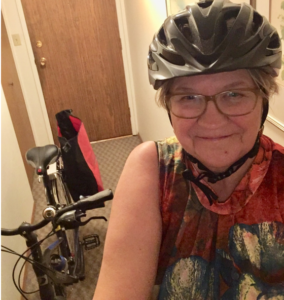 It is with great pleasure and excitement that I offer to you this brief biographical sketch. First of all, I wish to thank the search committee for putting trust in me and the system, and believing that all manner of things will be well. They are to be commended for the hard work they are doing to navigate the red tape of immigration to ensure I can move to West Lafayette to be your interim minister.
I have come into ministry later in life and bring with me not just my seminary training, hospital chaplaincy training, and a one-year internship, but also a lifetime of experiences. My background is in social work, mostly working with children and youth with special needs. I have also worked at a hospital social worker, a mental health social worker, and have coordinated programs for the Big Brothers Big Sisters organization. I am divorced and have two amazing adult children that I keep in close contact with. My daughter, Elizabeth is 33 years old and is getting married on September 22nd to a man I am happy to say will make a great son-in-law. They will be living and working on Vancouver Island on the west coast of BC. Elizabeth is a mid-wife and her fiancé is working toward a geo-science degree. My son, Matthew, is 27 years old and lives in Nelson, BC. He is single and is a wildlife biologist.
My call to ministry came in 1992 and I began working toward ordination with the United Church of Canada (much like the United Church of Christ). As my theology evolved I realized that my dream of becoming a minister was not going to come to fruition. I put my dream on hold as I finished my social work degree and began trying to put a career together. My heart was always in ministry, and so when the time was right (and after I discovered Unitarian Universalism), I brought my dream back to life and have now completed my training.
In addition to the day to day activities, programs, and well-being of the congregation, the special tasks of the interim period are: ·
claiming and honoring its past and engaging and acknowledging its grief and conflicts
recognizing its unique identity and its strengths, needs, and challenges
understanding the appropriate leadership roles of minister(s), church staff, and lay leaders and navigating the shifts in leadership that may accompany times of transition
making appropriate use of regional, UUA, and other outside resources
renewing its vision, strengthening its stewardship, preparing for new growth and new professional leadership, ready to embrace the future with anticipation.
I am confident that we can do this work together and that we are up for the challenge!
Rosemary Morrison
Invited Interim Minister