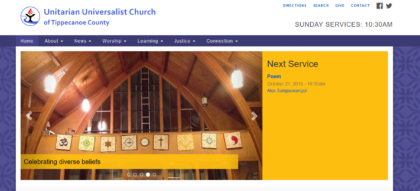 The communications committee has been very busy for you so far this year! Webspinner Steve Moss applied a significant upgrade to our website uuctc.org, bringing in a UUA theme with great design and places to put testimonials, specific event information and speakers. If you'd like to submit a testimonial about what you find valuable about UUCTC, we would be most grateful! You can email Steve at webspinner@uuctc.org directly. You may still find some broken links on the website - please send us the URL to webspinner@uuctc.org and we'll try to get it fixed as soon as we can. Steve also has improved the accessibility of the website by adding alternative descriptions to all the images, to help folks with screen readers figure out what the images are about.
We have also improved our use of social media, including starting a Twitter account (@uuctc) and livestreaming Sunday services on Facebook (which will be posted for a week after the service), and we have also started putting sermons on Apple Podcasts (Spotify and Google Play are next!). You can find us as "Weekly Sermons from UUCTC" on Apple Podcasts
On the program council side, we drafted new resources for committee chairs and people planning events, including a planning guide about using our social media to the church's best advantage. Those are password-protected; if you want access and don't have the link and password, email us at communications@uuctc.org or webspinner@uuctc.org and we'll get them to you.
As always, if you have something you'd like put on our blog, in the Meridian Update, the Lighted Chalice, or on Facebook or Twitter, you can fill out our online form.
We hope you find these services useful as you engage with UUCTC this year.
Alice Pawley, for the communications committee
communications@uuctc.org