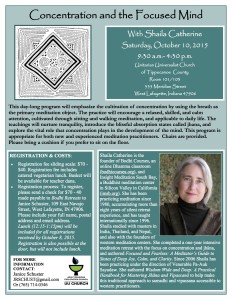 Highly regarded meditation teacher and author, Shaila Catherine, will offer a day-long meditation program for both new and experienced meditation practitioners.
Saturday, October 10th
9:30 am to 4:30 pm
Room 101/103
Shaila teaches meditation internationally. She founded Insight Meditation South Bay, a Buddhist meditation center in Silicon Valley (www.imsb.org), and Bodhi Courses (bodhicourses.org), an online Dhamma classroom. She is the author of two highly acclaimed books on concentration and insight—Focused and Fearless: A Meditator's Guide to States of Deep Joy, Calm, and Clarity, and Wisdom Wide and Deep: A Practical Handbook for Mastering Jhāna and Vipassanā. She has been practicing meditation since 1980, accumulating more than eight years of silent retreat experience, and has taught internationally since 1996. Shaila studied with masters in India, Thailand, and Nepal, and also with the founders of western meditation centers. She completed a one-year intensive meditation retreat with the focus on concentration and jhāna. Since 2006 Shaila has been practicing under the direction of Venerable Pa-Auk Sayadaw.
During this program, Shaila will teach participants to cultivate and deepen concentration by using the breath as the primary meditation object. Both seated and walking meditation will be practiced as relaxed, skilled and calm attention is encouraged. The teachings will nurture tranquility, introduce the blissful absorption states called jhana, and explore the vital role that concentration plays in the development of the mind.
To register, please send your check for any amount between $40 and $70* made payable to "Bodhi Retreats" to:
Janice Schuster
109 East Navajo Street
West Lafayette, Indiana 47906
Please include your full name, postal address and email address. When your registration fee is received by October 8th, a catered vegetarian meal from our local Chipotle Mexican Grill will be included. Registration is also possible at the door but will not include lunch.
*The fee is on a sliding scale. Please consider offering generously within your means. Your generosity supports the teacher and her ongoing efforts to share the Buddha's teachings. We want the program to be affordable for Purdue students and folks with limited means. Please determine what you feel comfortable paying (anywhere in the $70 to $40 range). If additional scholarship assistance is needed, please contact us.
There will be a "dana" basket for voluntary donations to the teacher at the event. Dana offering is an ancient and customary practice in many Buddhist traditions. Contributing to the dana basket is optional. Many people find that offering dana to their teachers is a meaningful part of their personal practice.
Sponsored by the UUCTC Adult Religious Exploration Council and The West Lafayette Buddhism Study Group http://www.meetup.com/west-lafayette-buddhist-study/
-- Janice Schuster/Adult Religious Exploration Council , JRSCHUST@gmail.com