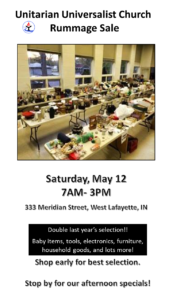 The Unitarian Universalist Church of Tippecanoe County, will host its "This is What a UUCTC Rummage Sale Looks Like" on Saturday, May 12th from 7:00 AM to 3:00 PM.   We have twice as much merchandise as last year, so we are hoping for a great turnout of buyers!
This year, the Rummage Sale will include lawn and office equipment.  The sale also includes furniture, housewares, electronics, baby items, toys, small kitchen appliances, and sports equipment.  Dorothy Hughes, Rummage Sale Chair said, "The UU Rummage Sale benefits so many people. We have repeat customers who take time to voice their appreciation for the sale, and for the church's outreach programs." It is also an opportunity for congregants to donate their gently used items; Hughes said, "It's a great way to repurpose when you are decluttering or downsizing."
All proceeds from the Rummage Sale help Unitarian Universalist Church of Tippecanoe County outreach and administrative programs. Hughes said, "It's the ultimate reuse and repurpose event because items that do not sell are donated to the former Salvage & Surplus, now known as Chestnut Street Mercantile for their use".