Nicole McCabe
Director of Religious Exploration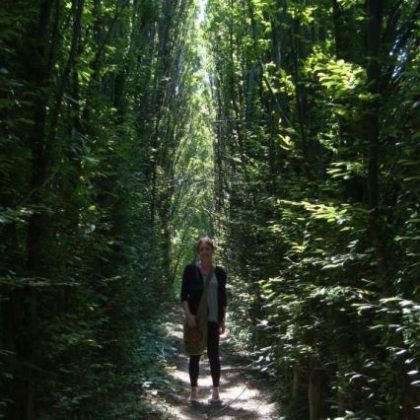 Hello! My name is Nicole McCabe and I am thrilled to be the director of religious exploration at UUCTC. I love learning about the numerous gifts and talents everyone brings to the UU community. I am originally from Memphis, TN and received my undergraduate degree in early childhood education from University of Memphis and my graduate degree in education from Union University. I was a teacher for twelve years and am also currently working as a university supervisor to teacher candidates at Purdue University. Here are some fun facts about me and the people and things I love:
I taught at New Community School for seven years and developed my own theme-based curriculum.
I have a younger brother, Max, who lives in Memphis and paints houses with my dad.
My mom is a special education teacher and loves creating yard art.
I have a pet dog named Gator. He loves sleeping, going on car rides, peanut butter, snuggling, walks, and playing with his toys.
I am inspired by art, music, nature, camping, yoga, meditation, hiking, reading, conversation, and learning new things. I try to incorporate these things into my daily life as much as possible.
I try to read at least one book per week and really enjoy a good mystery.
I love horror movies and got a small part in a local horror movie last summer.
I just bought a house and love decorating it with vintage pieces and friend-made art.
I am thrilled to be a part of such an open and welcoming community. Please feel free to e-mail me with any questions, concerns, comments, and ideas that you may have at DRE@uuctc.org or just stop by my office.