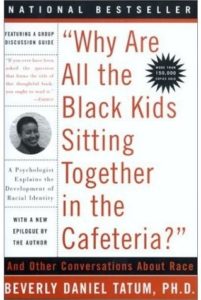 Join others from the Greater Lafayette Area for the Spring 2017 community read of psychologist Beverly Daniel Tatum's "Why Are All the Black Kids Sitting Together in the Cafeteria: And Other Conversations About Race." Explore definitions, develop a deeper understanding of the white context, and look at what it means to move beyond white & black and understand the goodness of racial identity.
Reading will be held at Unitarian Universalist Church in Room 102 on four Thursdays in March from 6:00 to 7:30 pm, hosted by Kirsten Reynolds, kdreynol@purdue.edu.
A concluding event including supper will be held on Saturday, April 1 at 5:30 p.m. in the meeting hall at Congress Street United Methodist Church,  2010 Congress St., Lafayette.
For more information, contact Rev. Clarinda Crawford crawford@cosumc.org, 765/447-4158
Information and sign up at www.cosumc.org. Click on the book's image on the left of your screen.